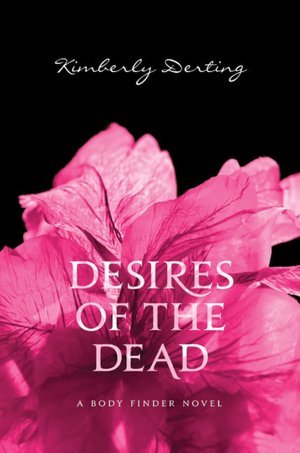 Publication date: 2/15/2011
Synopsis:
Violet can sense the echoes of those who've been murdered—and the matching imprint that clings to their killers. Only those closest to her know what she is capable of, but when she discovers the body of a young boy she also draws the attention of the FBI, threatening her entire way of life.
As Violet works to keep her morbid ability a secret, she unwittingly becomes the object of a dangerous obsession. Normally she'd turn to her best friend, Jay, except now that they are officially a couple, the rules of their relationship seem to have changed. And with Jay spending more and more time with his new friend Mike, Violet is left with too much time on her hands as she wonders where things went wrong. But when she fills the void by digging into Mike's tragic family history, she stumbles upon a dark truth that could put everyone in danger.

About this author (from Goodreads):
Kimberly is the author of the BODY FINDER series (HarperCollins) and THE PLEDGE trilogy (Simon & Schuster). She lives in the Pacific Northwest, the ideal place to write anything dark or creepy...a gloomy day can set the perfect mood. She lives with her husband and their three beautiful (and often mouthy) children who provide an endless source of inspiration.

Website: http://www.kimberlyderting.com/

Twitter username: kimberlyderting

Click here to read my review of The Body Finder, the first book of this series!
What do I have to say about Desires of the Dead?
It's good, not great. In a nut-shell, for Desires of the Dead I want to say the same thing I said about The Body Finder:
"So to sum things up: interesting story, cute crush-worthy dude, and an overall readable book. Pick this book up if you are bored and looking for a light, interesting, and nice read."
When I read The Body Finder, I was disappointed to find out that this series is good, not great. I still enjoyed reading it, but I found the writing style to be a bit fluffy, stale, and disconnected. I wanted to feel pulled into the story and I never was. I was always too keenly aware of the hovering third person narrator. However, I found that I still enjoyed the story.Desires of the Dead brought out pretty much the same reaction that The Body Finder did. It was good, not great. Though the subject matter is dark and creepy, the story never gives off that creepy feel, well at least not to me. I think it has everything to do with the writing style and tone. I was still intrigued by the premise so I kept on reading happily enough. I have two favorite things about this series: 1) the relationship between Jay and Violet and 2) the unique nature of Violet's ability. jay and Violet are still pretty cute together. Their relationship sure has matured from best friend status and they take things to the next level in this book. *wink, wink* I think their relationship progresses naturally and realistically. Jay is kind, understanding, and well the perfect boyfriend. Violet is nice, but I find her a bit annoying at times (though not enough to hate her as a protagonist, she sometimes just needs to think better, lol).
I did encounter something that was new. In a reversal of the common the-guy-smiled-at-me-so-now-he is-my-boyfriend delusion, Violet overreacts when her boyfriend questions one of her assumptions, and conjures up a break-up out of thin air! Oh, Violet, Violet, Violet! One disagreement does not a break-up make! You cannot expect your boyfriend to always agree with what you have to say!
Do you think you are an actual know-it-all?! You just stopped talking to him and didn't even bother to tell him you were breaking up! gah! I found this part of the story to be infuriating. I had red marks all over my forehead because I kept face palming. I think this awkward situation arose from the fact that the author wanted to give Jay and Violet some "trials and tribulations" (as is usually expected from the second book of the series) but couldn't force herself to really torture or hurt them. I had two major problems. First, I don't think their relationship struggle was necessary. Two, it was annoying, immature, and infuriating! Ok, I think that's enough about that. As you can probably tell, I feel very strongly about this because I feel it puts a damper on an otherwise perfect relationship, the relationship that pretty much drives the entire series, I mean, it's the best part of this whole series! There I go again! *deep breath*
So far in this series, I am I am happy to say, there is no love triangle; however, I can feel one brewing…hopefully I'm wrong. Like I've said, though I didn't love this book, I did enjoy it. I can't stress that enough. Please don't let my rants make you think I hate this series. I do not. I just think they could have been better. There is a lot of untapped potential here. Specifically, I think Derting needed to work on the character development of the villain. In the end it wasn't very clear or believable what exactly motivated the crime(s).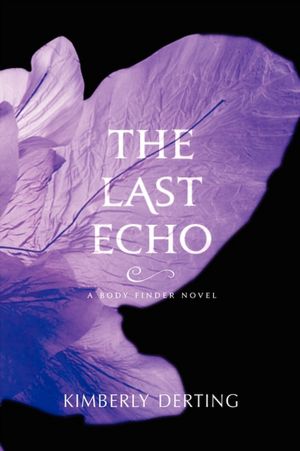 Now, two important questions:
1) Will I read the next book in the series?
2) Is Jay now in my Hall of Book Boyfriends?
1) The idea is unique and I liked them enough that I will read the third book in this series (The Last Echo, Publication date: 4/17/2012). I am in no hurry though. This isn't one of those series that lights a fire under my heinie if you know what I mean…I'm sorry, what was that?…You say there is a copy of Clockwork Princess behind me?!…and a copy of Requiem!!! *scrambles to get up and turn around, gets tangled-up in own legs, face-plants the floor*…stop laughing! That wasn't funny! I could have died! You lied to me, how can I ever trust you again! *wails* Isn't it bad enough that I have to wait until march for both those books! *sits in the corner rocking back and forth*

*composes self* ehem. Sorry about that…So all in all, I say Desires of the Dead is a pretty good sequel to The Body Finder. If it weren't for the whole break-up thing I probably would have applauded it. This series is a light yet creepy read with good characters and a cute love story. I say, if you have time and need a quick, dark but not too intense read, definitely give this series a try. I highly recommend taking it for a test drive first, check it out from the library or borrow it from a friend to see if it works for you.
2) Oh, one last thing. I am sorry to say that Jay has still not been inducted into my Hall of Book Boyfriends. In my review of The Body Finder I said he had been waitlisted and unfortunately for him, he has yet to get the boost he needs to join the big boys. I still find him super cute and sweet and all, but I just don't think he is ready to join Four, Aiden, Will, Daemon, and Jace. Sorry Jay, I like you, but those guys have really set the bar high…I know it isn't fair, you may wish to complain to Veronica Roth, Cassandra Clare, and Jennifer L. Armentrout for making their boys too damn fine! K. Bo Baron, out!