"Waiting On" Wednesday is a weekly event, hosted by Breaking the Spine, that spotlights upcoming releases that we're eagerly anticipating.
This "Waiting on Wednesday" post is about:

Etiquette and Espionage (Finishing School Series #1) by Gail Carriger
Publication date: February 5, 2013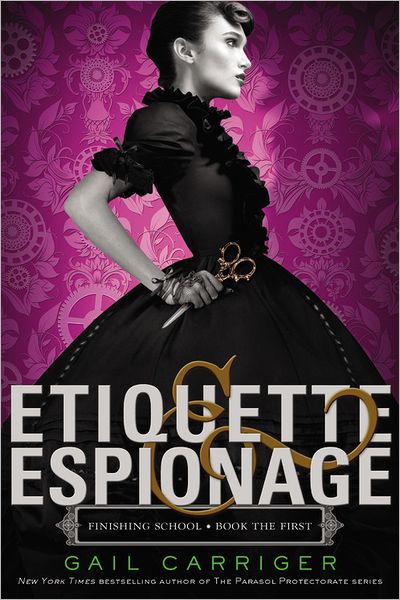 Synopsis:
It's one thing to learn to curtsy properly. It's quite another to learn to curtsy and throw a knife at the same time. Welcome to finishing school.

Fourteen-year-old Sophronia is the bane of her mother's existence. Sophronia is more interested in dismantling clocks and climbing trees than proper etiquette at tea--and god forbid anyone see her atrocious curtsy. Mrs. Temminnick is desperate for her daughter to become a proper lady. She enrolls Sophronia in Mademoiselle Geraldine's Finishing Academy for Young Ladies of Quality.

But little do Sophronia or her mother know that this is a school where ingenious young girls learn to finish, all right--but it's a different kind of finishing. Mademoiselle Geraldine's certainly trains young ladies in the finer arts of dance, dress, and etiquette, but also in the other kinds of finishing: the fine arts of death, diversion, deceit, espionage, and the modern weaponries. Sophronia and her friends are going to have a rousing first year at school.


First in a four book YA series set 25 years before the Parasol Protectorate but in the same universe.
What's it doing on my WoW?
Again I am forced to blame you. YOU! Every time I visit one of your WoWs I end up adding to my list of books…and for that I love you! I want this book because you guys keep sharing awesome books that I simply have to read: this is one of them. When I read the synopsis to this book, I knew I had found the brochure for the school I will be attending in the near future. I am working on my application. You see, I aspire to kick ass. I want to run around just kicking ass. I want to be Jason Bourne, running around rooftops and, well, just plain kick ass! Have I made myself clear? Good! I am very excited about this book, I think it will kick ass. I have never read anything by Gail Carriger, but just on the synopsis, I have high hopes. When the time comes, I will devour this book!
What book(s) are you hungry for?
Please link your WoW, I want to see what you are waiting for!
If you leave a comment I will reply and visit your blog ASAP, and if you follow, I will follow you back. I promise!
Thank you so very much for stopping by!