"Waiting On" Wednesday is a weekly event, hosted by Breaking the Spine, that spotlights upcoming releases that we're eagerly anticipating.
This "Waiting on Wednesday" post is about:
Onyx (Book two of the Lux Series)
by Jennifer L. Armentrout!
Release date: August 14, 2012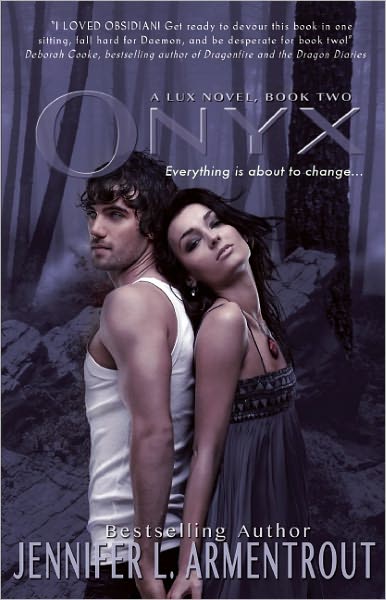 I need this book, badly. I stumbled upon Obsidian (book 1) while browsing the Barnes and Noble website and decided to give it a try. I ordered it, read it, and loved it. I have since made it a goal of mine to read all of Jennifer L. Armentrout's books because they are just that fun and awesome. I am her new super fan and I am intent on spreading the news and letting my fellow readers know about these awesome novels. So far I have read Obsidian, Half-Blood (Covenant Book 1), and Pure (Covenant Book 2). Next up is Onyx! Two nights ago I received an email letting me know that my pre-ordered copy of Onyx was on its way! Needless to say, a happy dance immediately followed. When Onyx finally makes it home, I will, inevitably, squee, dance, and slap things, as is appropriate. The ending of Obsidian left me feeling feverish. I have a fever and the only prescription is more Daemon (and the much needed second dose can only be administered by reading Onyx)! Thankfully, Onyx and I will be united soon enough…now if only I could get my hands on a copy of Deity (book 3 of the Covenant series)!!!!