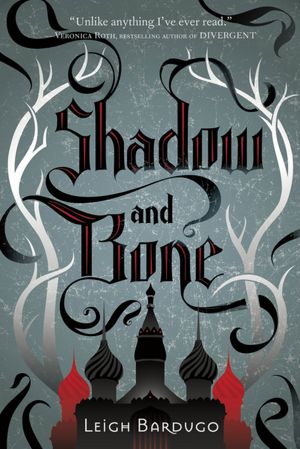 Publication date: 6/5/2012
Synopsis from Goodreads
Surrounded by enemies, the once-great nation of Ravka has been torn in two by the Shadow Fold, a swath of near impenetrable darkness crawling with monsters who feast on human flesh. Now its fate may rest on the shoulders of one lonely refugee.

Alina Starkov has never been good at anything. But when her regiment is attacked on the Fold and her best friend is brutally injured, Alina reveals a dormant power that saves his life—a power that could be the key to setting her war-ravaged country free. Wrenched from everything she knows, Alina is whisked away to the royal court to be trained as a member of the Grisha, the magical elite led by the mysterious Darkling.

Yet nothing in this lavish world is what it seems. With darkness looming and an entire kingdom depending on her untamed power, Alina will have to confront the secrets of the Grisha…and the secrets of her heart.

About the Author (from Goodreads):

Leigh Bardugo was born in Jerusalem, raised in Los Angeles, and graduated from Yale University. These days, she hides out in Hollywood and indulges her fondness for glamour, ghouls, and costuming in her other life as makeup artist L.B. Benson.

Her debut novel, Shadow & Bone (Holt Children's/Macmillan) is now a New York Times Best Seller.

She would be delighted if you followed her on Twitter, elated if you visited her web site, and downright giddy if you liked Shadow & Bone on Facebook.
My Rating of Shadow and Bone:

(Translation: This book is so effing awesome it makes me sqee!)

SQUEEE!!!!!!
I remember browsing Goodreads and stumbling upon Veronica Roth's review of Shadow and Bone. Immediately, I knew I had to get my paws on this book. It sounded original, which it is, it sounded exciting, which it is, and it sounded AMAZING, which it is!
Leigh Bardugo shines in her ability to weave an intricate and unique story. Time and time again I was left feeling breathless as I was struck by the beauty and effectiveness of her writing. Due to the uniqueness of the story, I felt like every page was portal taking me deeper and deeper into an unknown and utterly fascinating world. The characters are well developed and believable. The progression of the plot is smooth and engrossing. The love story develops naturally and realistically. Everything comes together wonderfully and effectively. Shadow and Bone is one of those books that never really makes it to my shelf because I like to have it near for when I get the urge to reread it. I am eagerly awaiting the next book. I have no trouble believing that Leigh Bardugo will deliver an outstanding, fantastic, and mind-blowing sequel. I'm getting the tingles just thinking about it!
At this point in my review, I would like to point out that I have maintained my composure long enough and will now proceed to the fangirling portion of the review. I appreciate your understanding.
I effing love this book! eff yea!
Happy dance!
If this book were a fieldtrip, it would be a trip to Disneyland, no DisneyWORLD.
If it were a smell, it would be the new car smell, better yet, it would be the smell of freshly baked cinnamon rolls (hmmm).
If it were an element it would be helium.
If it were a dessert, it would be a chocolate molten lava cake with ice cream and whip cream on top.
If it were a guy, I'd hit that.
I cannot effing wait for the next installment in this series!
Siege and Storm (The Grisha #2)
Expected publication: 2013
I think you should go read this book, the sooner the better…now's good…what are you still doing here?! go read it! …still here!? go!…don't look at me like that, just go! …I should probably stop typing…did it work?…hello? anyone there? Where did everyone go?!
Rude!